AAUW often collaborates with The League of Women Voters in service of a shared mission to educate and engage the public in service of democracy. We are sharing this extraordinary LWV resource to promote this goal:
VOTE411.org is a one-stop shop for voting information. Voters can simply enter their address to get a sample ballot that lists all races and candidates that will appear on their ballot on Election Day as well as read candidates' unedited and unabridged answers to questions on important issues.
Additionally, VOTE411.org provides information about early voting, Election Day polling locations, and NC voting laws. You can access this resource here.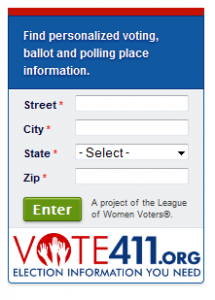 ---
A Lotta Love:
Bringing a Sense of Home to Community Shelters
By Laurie Tepper with Pam Stephens
In 2014, when Charlotta (Lotta) Sjoelin went to donate pillows to HomeStart, the women's and children's shelter in Chapel Hill that is run by the Inter-Faith Council, she found the conditions of the shelter so depressing that she cried. Although the shelter provided its residents safety and necessities, Lotta knew that the stark facilities did nothing to boost the spirits of women and children who were struggling or to give them hope in a better future. As an interior designer, she knew the impact of physical space; she knew that the physical space of HomeStart was a problem; and she knew that she could do something about it.
Asking friends to help by "donating a room" with monetary donations and sweat equity, and by soliciting donated supplies and furnishings from businesses, Lotta set about transforming HomeStart from a "shelter" to a "home," a temporary home that would help give the residents a sense of being valued and give them confidence to work for a better life for themselves and their children. Pictures of the transformation of space at HomeStart and a testimonial to the positive effect it has had on the residents can be seen on the A Lotta Love website at www.alottalove.org. (We urge you to visit this site to be inspired!)
Since the initial project at HomeStart, A Lotta Love has expanded its reach to improve the lives of some of the most vulnerable members of our community with renovation projects at Families Moving Forward and Urban Ministries in Durham; Compass Center in Chapel Hill; and Wrenn House, InterAct of Raleigh, and the Helen Wright Center in Raleigh. Ongoing projects are at Haven House and Family Promise in Raleigh and at the Compass Center in Chapel Hill. Since its beginning in Chapel Hill, A Lotta Love has begun chapters in Chatham County, Raleigh, and Wake Forest.
The physical work of transforming homeless and children's shelters into homes is done by volunteers from university sororities, fraternities and clubs; school groups; church groups; and company employee volunteers. Materials are largely supplied by donations from retailers such as Pottery Barn Teens. A Lotta Love has also been supported by grants from the Giving Network of Wake County, Strowd Roses, the Poyner Foundation, Detail and Design Studio, and the Rotary Club of Southwest Durham.
Please join us and bring friends to hear Lotta Sjoelin speak about "Bringing a Sense of Home to Community Shelters with A Lotta Love," at the Chapel Hill Library, 100 Library Drive in Chapel Hill, on Saturday, March 17. It will inspire you to hear how one women with a vision, energy and determination can start a movement and make a difference! Refreshments will be served at 10:30 a.m., and Lotta's talk will begin at 11. The program is free, and all are invited to attend.
---
Upcoming Event
Annual Scholarship Fundraising event on is May 9, 2 p.m – 4 p.m.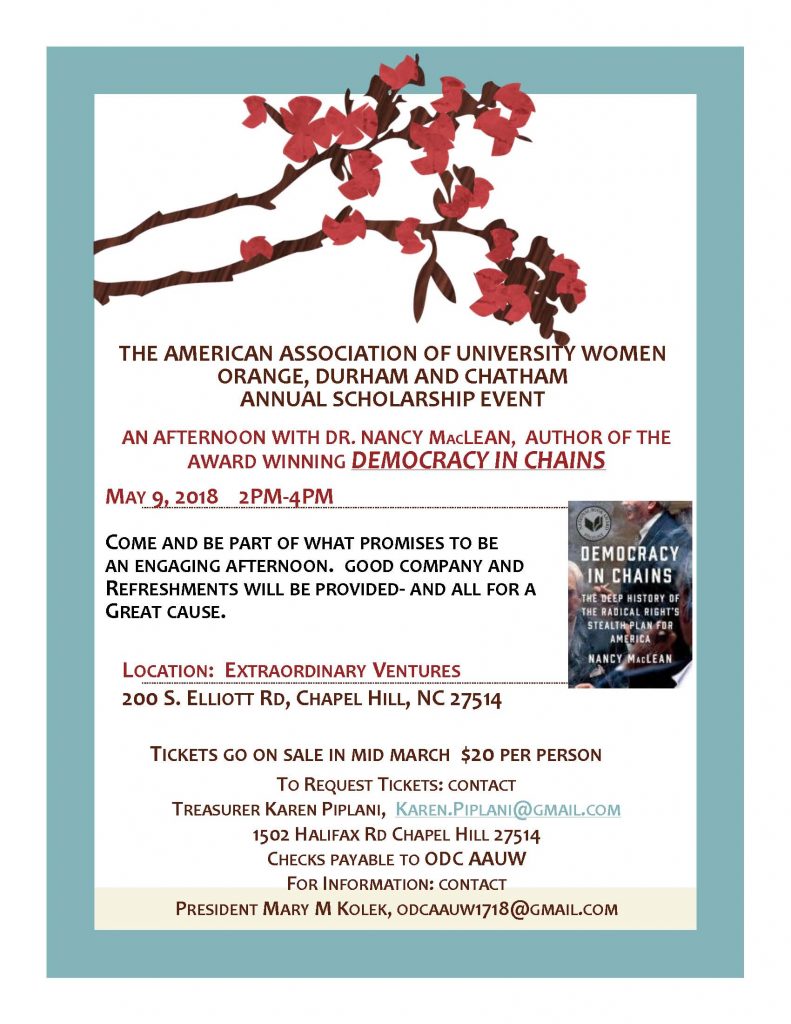 ---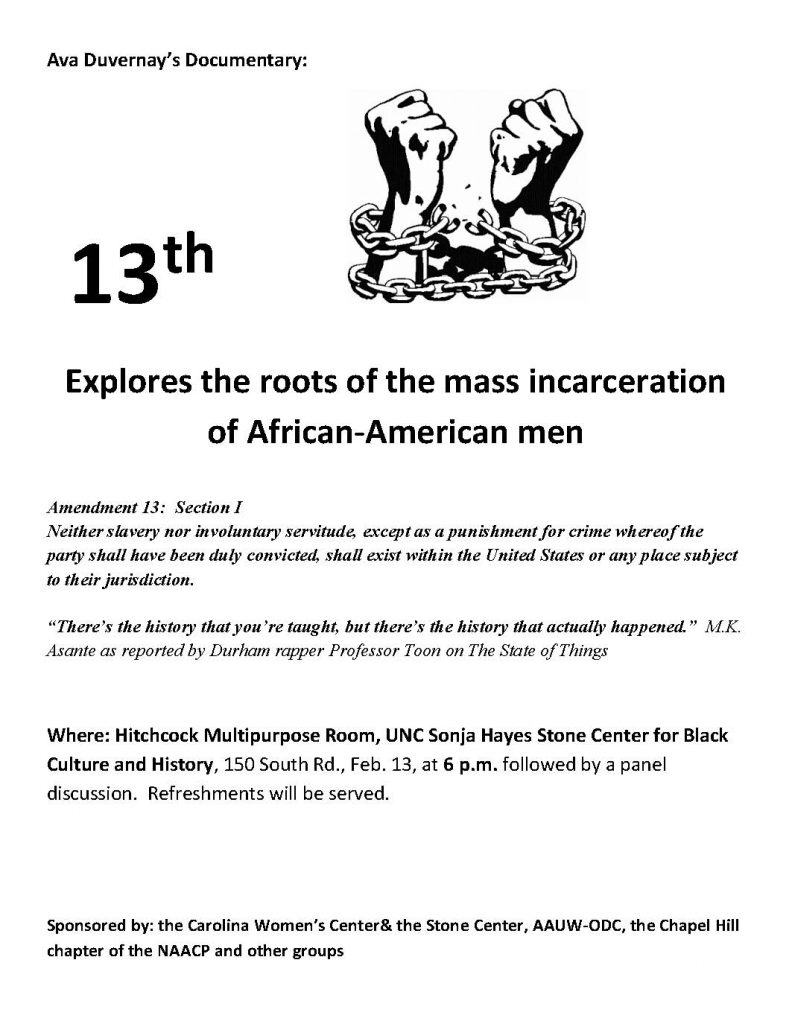 ---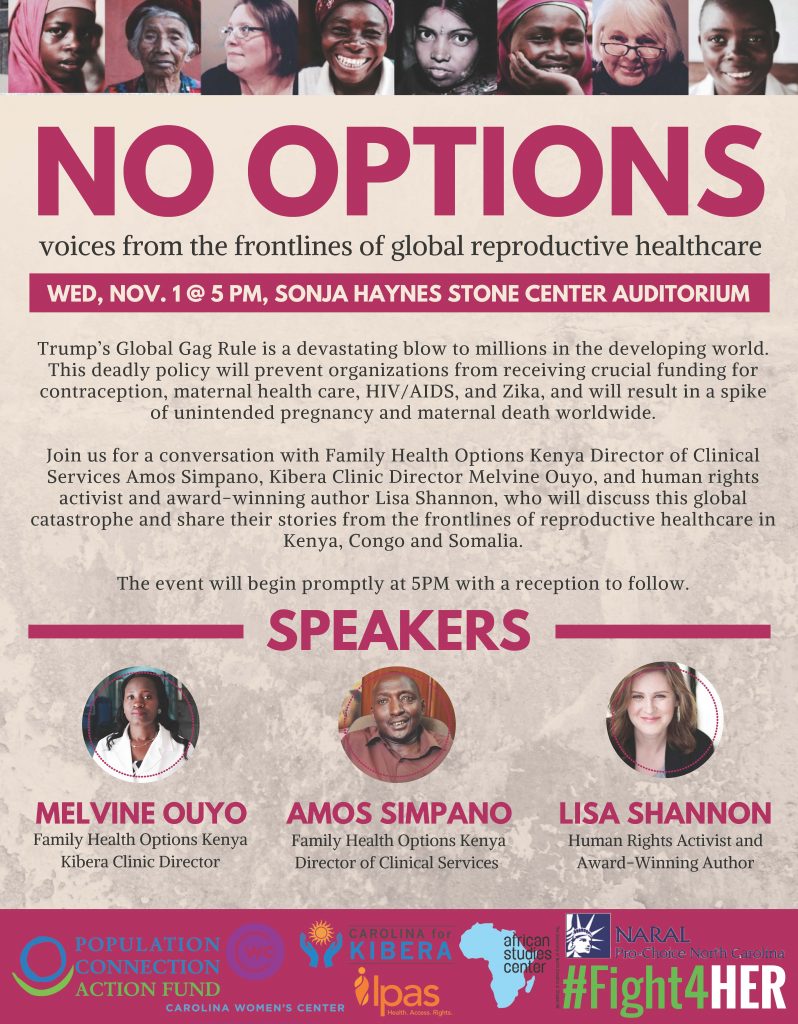 ---
UNC Women's Center Special Event
AAUW members will want to know about an exciting collaboration to commemorate Carolina Women's Center 20th Anniversary. CWC and WUNC Radio are partnering to bring to you a public discussion of The Modern-Day Women's Movement Past, Present and Future: Women's Organizations Roles on Campus and in Communities
When: Wednesday, October 11th, reception at 5:30 p.m., followed by panel presentation and discussion.
Where: UNC William and Ida Friday Center for Continuing Education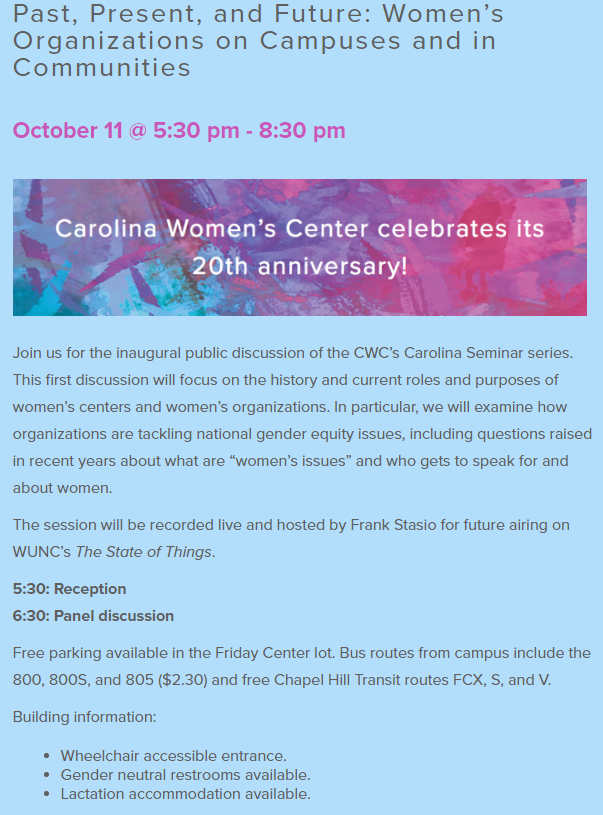 See the attached flier for further details or go to this link. This event is free and open to the public but you MUST REGISTER TO ATTEND.
——————————————————————————————————————————————Special thanks to our co-sponsors for this event:
UNC-CH Carolina Seminars and co-conveners – UNC Women's & Gender Studies Dept, Duke University Women's Center, Wake Forest University Women's Center, Women AdvaNCe
UNC-CH Office of the Provost, School of Media and Journalism, William and Ida Friday Center for Continuing Education
Sun Trust Bank
---
The American Association of University Women (AAUW) is a nationwide network of more than 170,000 members and donors, 1,000 branches, and 800 college/university institution partners.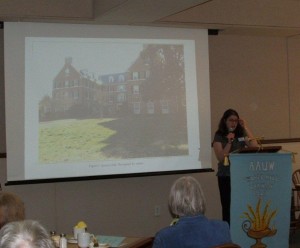 For 130 years, AAUW members have examined and taken positions on the fundamental issues of the day — educational, social, economic, and political. Our commitment to our mission is reflected in all aspects of our work.
In April 2016, the Chapel Hill Branch voted to change its name to AAUW of Orange, Durham, and Chatham Counties.
AAUW-ODC provides:
Please contact odcaauw1718@gmail.com with any questions.