Oct. 16th | 10:30AM – Noon (Log in at 10AM) | REGISTER HERE
Registration is required
Pre-register NOW to join us on Zoom Saturday, Oct. 16th for a program to highlight Domestic Violence Awareness Month. AAUW-NC is hosting on its Zoom account to allow AAUW members from across the state to join us for our special AAUW-ODC branch program:
Sometimes I Sing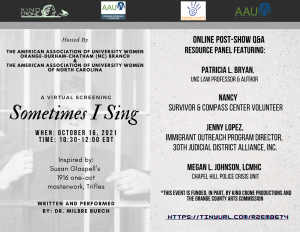 Virtual Film Screening and Online Discussion with Writer/Performer and Panel
Filmed in 2021, Sometimes I Sing is a 38-minute monodrama written and performed by Dr. Milbre Burch in the voice of Minnie Wright, the unseen protagonist in Susan Glaspell's 1916 one-act play, Trifles. Glaspell, a Pulitzer-prize-winning playwright, based Trifles on an Iowa murder trial that she covered for the Des Moines Daily News in 1901, and Burch's monodrama picks up where Trifles leaves off. Following the 38-minute virtual screening, Burch will be joined by panelists: Patricia Bryan (UNC Law Professor and Author), "Nancy" (Survivor and Compass Center Volunteer), Jenny Lopez (Immigrant Outreach Program Director, Western NC) and Megan Johnson, LCMHC (Chapel Hill Police Crisis Unit) for virtual conversation and Q&A.
Please pre-register. You will receive Zoom.US reminders. You may cancel at any time. We ask that you log in early on Oct. 16th (10AM) so that we may start the introduction to the virtual film promptly at 10:30AM. You may leave the meeting at any time. We will do our best to end at noon, but we also wish to be sensitive to this very important topic.
---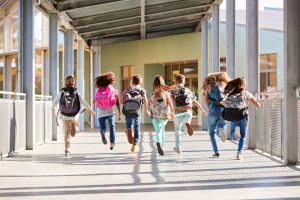 Sept. 9th | 7PM – 8:30PM | Read the summary in the October 1 Newsletter.
Join us for an update on the state of our state's public schools. Lynn Edmonds with Public Schools First NC brings us up to speed on the Leandro court case and legislative impacts in the classroom. Lynn Edmonds has worked in public education advocacy for 11 years, first as a volunteer and then with Public Schools First NC beginning in 2013. She graduated with an Associate's degree from Peace College, now William Peace University in Raleigh. A native North Carolinian, Lynn and her husband attended and graduated from Durham Public Schools. They have two children who both graduated from Wake County public schools. Lynn has served on multiple PTA and civic boards.
---