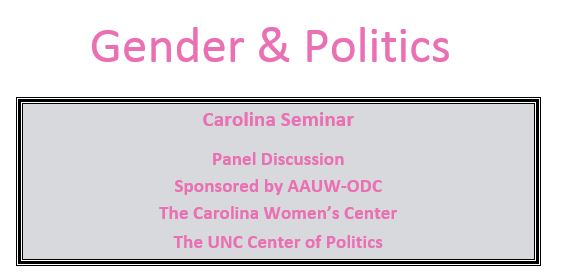 Our Six Panelists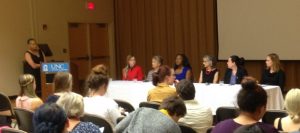 Moderated by: Dr. Gloria Thomas, Director of the Carolina Women's Center
Maggie Horzempa, Chairwoman of the College Republicans
Verla Insko, State Representative, Democratic Whip
Natalie Murdock, Candidate, Durham County Water & Soil Commission
Sally Greene, Chapel Hill Council, Orange County Commissioner Candidate
Javiera Caballero, Durham City Council Member
Stephanie Austin, President of Stephanie Austin & Associates, Inc. (Political Fundraiser)
Encouragement for women to enter politics
Never think you don't deserve to sit at that table! Women often need to be asked to run, however, men expect to lead. Early on in life, women learn that they are the helpmate, not the leader. Step forward, don't wait to be asked.
Roadblocks for women
It takes a lot of money. Money is a daunting issue, but fundraising is a game of checkers, not chess. Women may lack the professional networks that men have through their work. Women are raised to be nice and polite; the meanness in politics is unnerving. Both running for office and being in office takes up a lot of time. Time is a barrier especially if you are working and have children; the default parent is often the woman. Women are less likely to work in firms which will absorb their workload.
Issues that are important to women
Access to quality public education, quality childcare, affordable housing, equal pay, and healthcare are important to women as are human trafficking and sexual assault.
Women disagree about the following issues
Women disagree on several issues: right to life versus right to choose, role of mothers—shared or primary, public education versus subsidies for private/charter schools, the depth and frequency of sexual violence in society, and immigration.
What is rewarding in politics?
A life as a public servant is hard and time consuming, but members of the panel enumerated many positives: seeing your ideas become policy, learning a vast amount about your district and state, helping people, getting excited about politics, helping the underdog, helping Latinos, realizing the huge responsibility of your position, working with constituents to find a solution, feeling like you are making a contribution and a difference.
What are recent challenges you have faced?
These are some of the challenges the panelists faced: being a Republican in a very Democratic environment (and vice versa), taking care of parents who were very ill while campaigning, balancing personal needs, family and job, running against a person of color when you believe more people of color should be in government, dealing with gentrification and affordable housing and recognizing that resources are limited, and facing a serious lack of fundraisers (people get burned out).
Campaign money issues
Fundraising takes a tremendous amount of emotional energy and stamina plus you must develop confidence to ask for money. "Every no you get is closer to a yes." If you don't come from wealth, you must really work hard. You must network and keep up with people you know throughout the stages of your life. It takes $10K to run for Chapel Hill Town Council, $50K for the Durham City Council, $100K for the Raleigh City Council, and $5 million for Attorney General.
Differences between life as a male politician and a female politician
On the positive, residents like to talk to women about issues. On the negative, men interrupt and cut off women in power. Women are asked more personal questions and are called "girl". Men are more assertive, even aggressive. Communication styles are different.
Hopes for the future
Panelists mentioned a need for bipartisanship—both sides need the other. Also mentioned was a need for a fairer redistricting system.

AAUW-ODC extends special thanks to Dr. Gloria Thomas, Director, Carolina Women' Center, Dr. Clare Counihan, Program, Coordinator for Faculty and Staff, CWC, and Lucy Russell, President of the Student Leadership Team, UNC Institute of Politics for helping to coordinate this program and to the Sonya Haynes Stone Center for Black Culture and History for providing a wonderful venue. The program took place Oct. 10, 2018.
---
Women of Worth
A student group at UNC-CH was awarded an AAUW CAP grant to combat the disproportionate levels of psychological and physical distress that collegiate women of color face on campus. The purpose of the project was to give the students coping skills and hope. We met with Dr. Gloria Thomas, Director of the Carolina Women's Center and Erica Wallace, Coordinator for Peer Mentoring and Engagement and asked what sort of inspirational book would be helpful to the young women. They consulted with the student committee who suggested Shonda Rhimes' Year of Yes: How to Dance It Out, Stand in the Sun, and Be Your Own Person. AAUW-ODC applied for a mini-grant from AAUW-NC and matched the grant to provide copies of to all the We Are Worthy Conference participants.
Click below to view the slideshow.